Search

Home
Surname
First Name
Popular Products

Coat of Arms
Clan Badges
Books & Gifts
Celtic Jewelry
Black Shirts
CD Music
Download

Design Gallery

Irish
Flags
Celtic
Tartans
Scottish
Claddagh
Surnames
Highlander
Celtic Radio
Research

History
Country
Families

All of our products can be order in bulk for family reunions and get-togethers. Depending on the number of items ordered, we can offer bulk orders at reduced prices for incredible savings from individual items. We also offer embroidered Clan Badge and Coat of arms patches in bulk orders for all of your family and clan festivals.
Don't see your Clan Badge or Family Coat of Arms or do you have a special customized order? Please
contact
us with your special order details and we will be happy to setup a free quote.

Our Heraldry Database has thousands of Family histories to search. Visit Now!

Spencer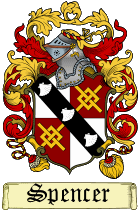 Coat of Arms

---

The Spencers have been farmers since pre-Tudor times, coming to prominence in Warwickshire in the fifteenth century. John Spencer became feoffee of Wormleighton in 1469, and a tenant at Althorp in 1486. His nephew another John, through trade in livestock and commodities, then bought both properties outright, was knighted, and so lay the bedrock for the family's fortune.

His descendants e.....