Search

Home
Surname
First Name
Popular Products

Coat of Arms
Clan Badges
Books & Gifts
Celtic Jewelry
Black Shirts
CD Music
Download

Design Gallery

Irish
Flags
Celtic
Tartans
Scottish
Claddagh
Surnames
Highlander
Celtic Radio
Research

History
Country
Families

Our catalog of products also includes three designer logos created specially by the Celtic Radio designers:

'Enjoy Life' Brand - Pigmented fun t-shirts with our 'Enjoy Life' logo. Stickers available too!

'StormCelt' Brand - Rugged wilderness outdoor wear for the true independent Celt.

'StormGale' Brand - Clothing products to keep you warm & dry when storm winds blow.

Our Heraldry Database has thousands of Family histories to search. Visit Now!

Gibson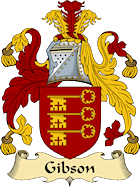 Coat of Arms

---

On the Scottish westcoast, the Gibson family was born among the ancient Dalriadans clans. Their names comes from the given name Gibb, which is the diminutive form of the name Gilbert.

Historical recordings of the name Gibson include many spelling variations. They are the result of repeated translations of the name of Gaelic to English and inconsistencies in spelling rules. Gibson, Gibson.....